Physical Education
Department of Physical Education started teaching Application course in Physical Education for B.A.P 3rd year, from the year 2009. The name of the paper then was 'Fitness, Aerobics and Gym Operations'. This has now transitioned into the Generic Elective Paper* in Physical Education for Honours courses in Semester-I, II, III and IV respectively.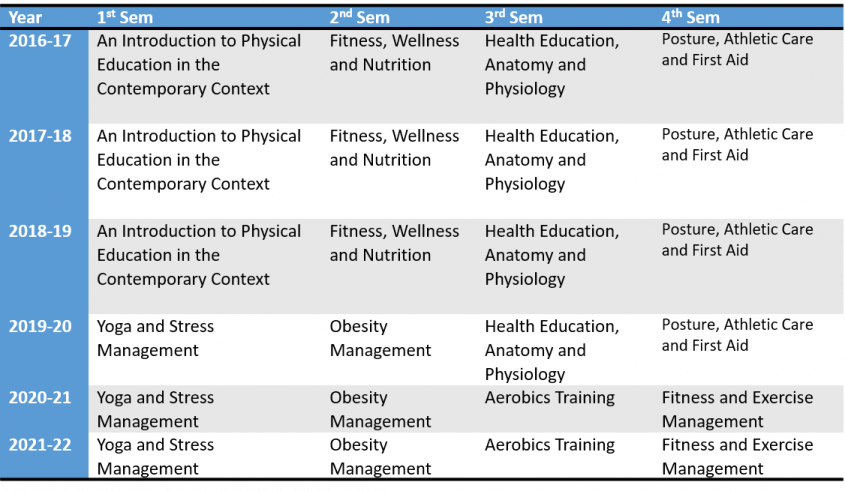 The department would like to teach the Discipline Specific Course (DSC) if given a chance from next session onwards.
The department will also opt for Generic Elective paper in B .A.P in the 3rd year in the future, if permitted.
The internal assessment is done as per rules mentioned in the university syllabus.
The department has also been engaging with B.El.Ed. 2nd Year for the Physical Education Practicum since the year 2000, which entails introducing students to the games available in the college by giving them basic knowledge, and teaching them how to engage with students in a PE class. Game experts are also engaged to give deeper knowledge. These students are evaluated on the basis of lesson plans and administration of the same. The class involvement is also given some weightage.
Books on Sports, games, fitness and health are also available in the Department of Physical Education for reference.
*Since a syllabus change is currently in the process, we are teaching the earlier version of the same.
Student Sports Council
A Student Sports Council has been an integral part of the Department since the last two decades. It was envisaged that this would serve four purposes.
The council would help the department to ensure discipline.
The council would also act as peer mentors.
The council would also be of great help while running different celebratory, workshop or lecture events.
Being a council member enhances the personality of the office bearers and members.
The council comprises a Sports President, Vice President, Secretary, Treasurer, Joint Secretaries, Creative Team, and Editors for Ablaze-the departmental magazine. The President is elected by all the sportspersons. The person who loses the Presidential fight becomes the Vice-President generally (not mandatory) and the other members are selected through self-nominations and a rigorous interview process by a panel of Physical Education teachers and former Student council members.  The duly-formed council helps administer various responsibilities related to sports events. They are instrumental in the department organizing any event and shoulder important duties during the event. The council functions under the guidance of the teachers of the department.
The following responsibilities are looked after by the Council in consonance with the teachers:
Noticeboard regulation/E posters
General Discipline
Organisation of events
Gargi Olympiad
Refreshment advises and regulation
Attendance of sportspersons
Peer counselling
Ablaze, the Departmental magazine
Physical education department student council
Faculty Member: Physical Education Department