Lecture and Conferences
Inauguration of Weज्ञानम् - The Research Wing of Scintillation (August 4, 2022)

Aim of 'Weज्ञानम्' is to inculcate an interdisciplinary approach in students and to bring together all other disciplines of science to help students learn science. Prof Sangeeta Bhatia, Principal, Gargi College; Prof. Parvesh Bubber, Guest Speaker of the day; Dr Shivani Tyagi, Teacher In-charge, Department of Zoology and teachers as well as students from all Science departments graced the occasion. The core team (at present; Ms Bisma Khan, Ms Aarti Venkatesan, Ms Divyanshi Chauhan and Ms Smriti Verma; B.Sc (H) Zoology III Year.) presented an overview of the mission and vision, as well as how it will strive to instil, cultivate, and nurture a spirit of curiosity toward neighbor disciplines and an interdisciplinary approach to science.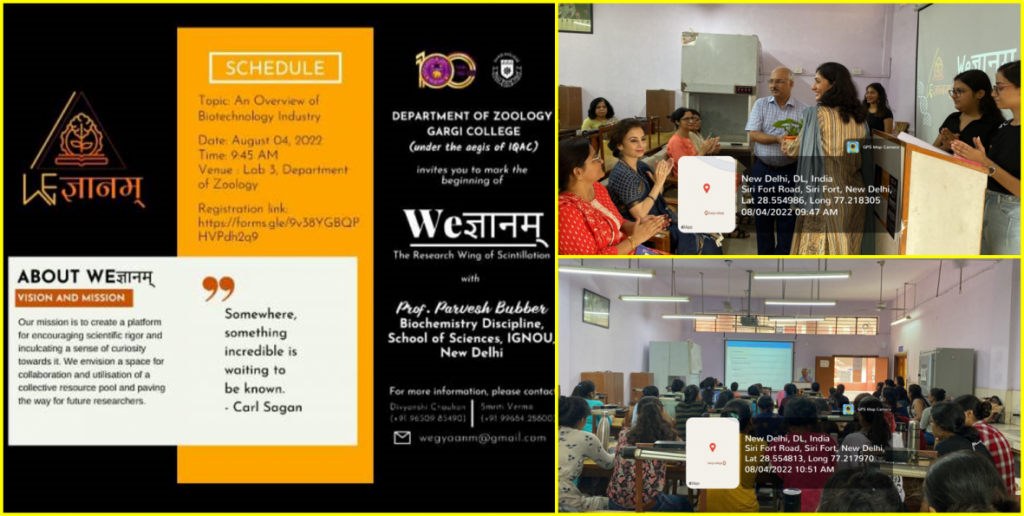 ---
Webinar on CUCET (2nd May, 2022)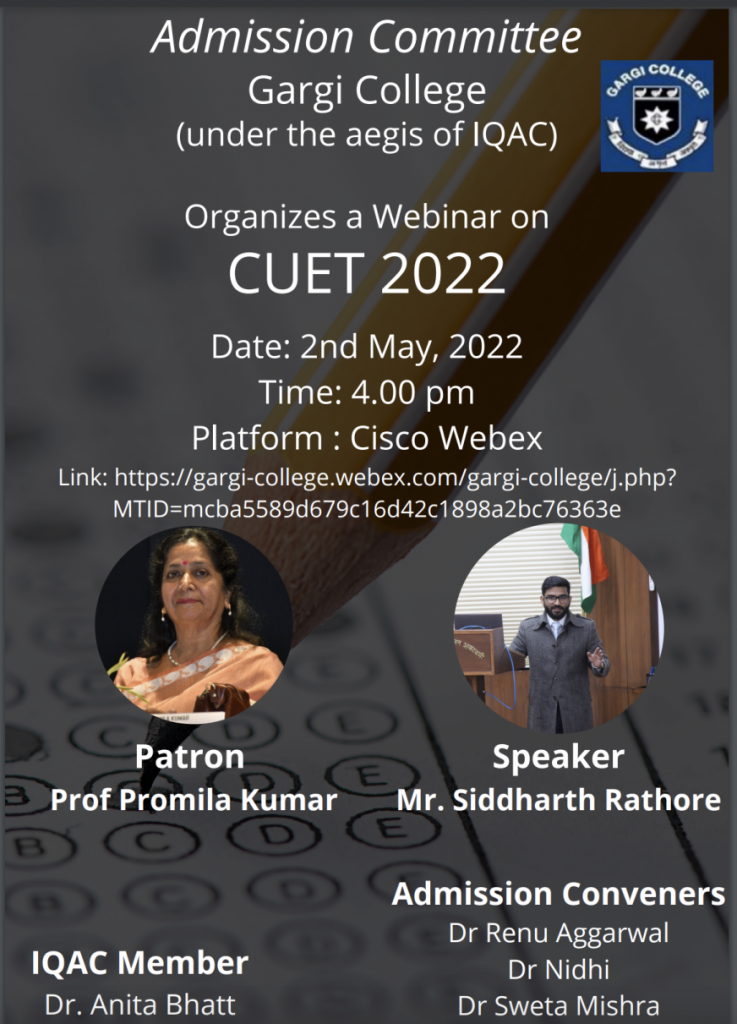 ---
Online Two-Week Refresher Course In Zoology (25th April- 09 May 2022)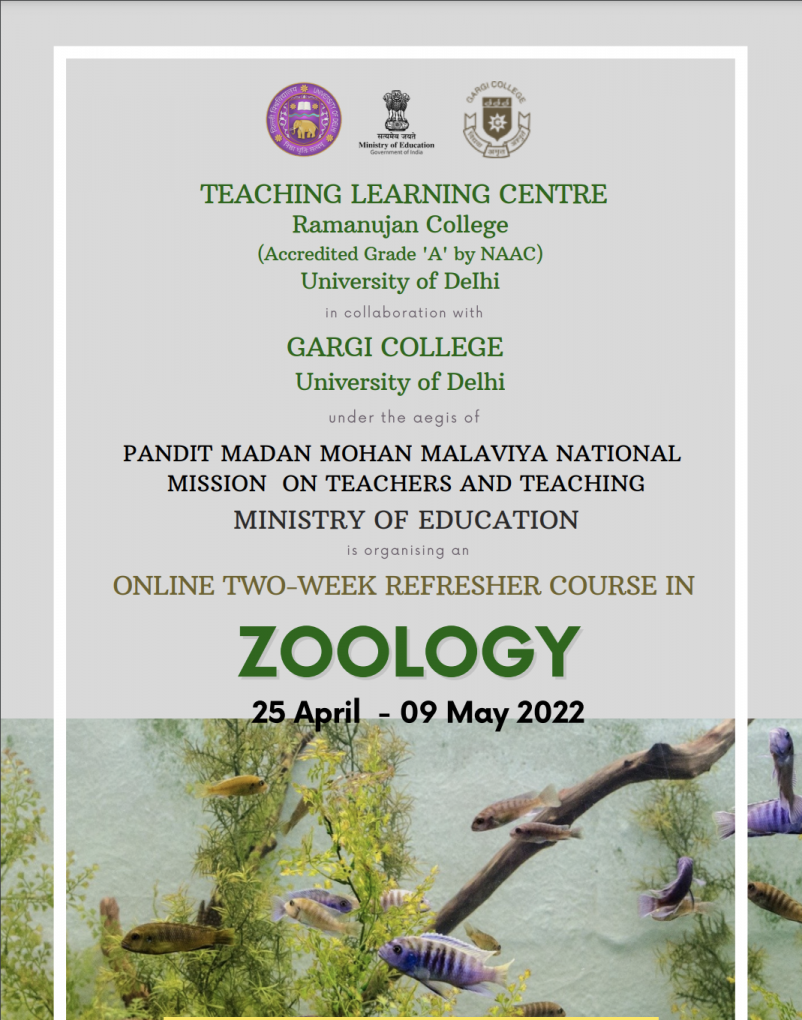 ---
International E-conference on "Microbes in sustainable development" (15-18th November 2021)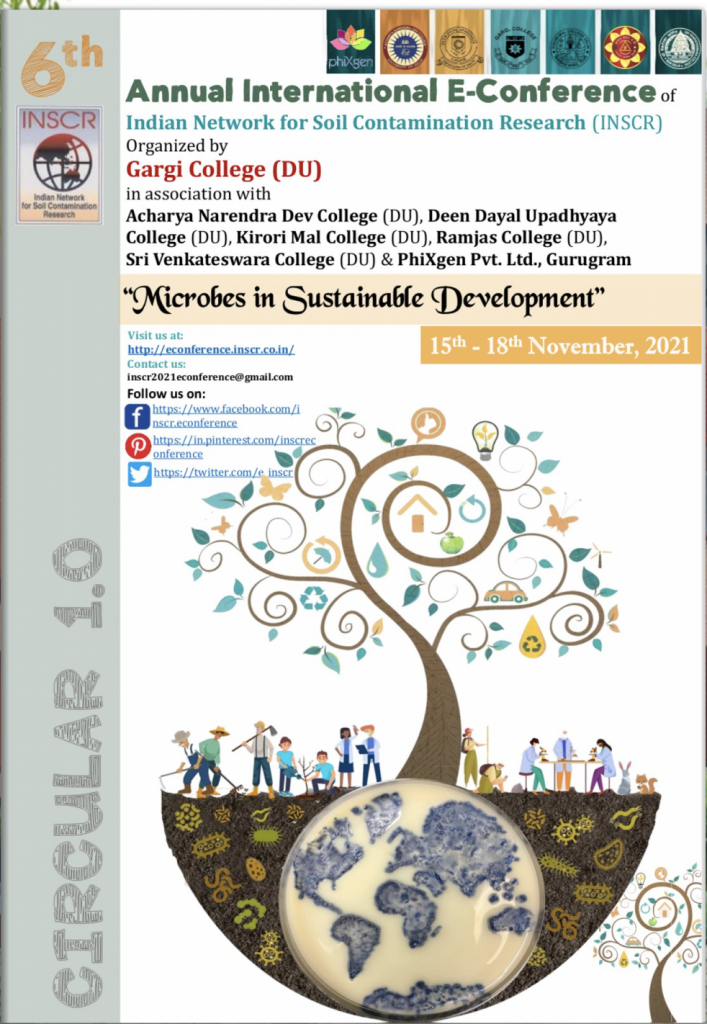 ---
International Colloquium 'Breaking Stereotypes, La Femme- Her Story
on International Women's Day (8th March, 2021)

Conveners: Dr. Jasvinder Kaur and Dr. Anita Bhatt
Co-Conveners: Dr. Aparajita Mohanty, Dr. Neera Pant, Dr. Sailaja Modem, Dr. Sabeen Rizvi, Dr. Udita Mukherjee
Gargi College, University of Delhi, in association with IQAC organized an International Colloquium, "Breaking Stereotypes, La Femme- 'Her Story' on 8th March, 2021. The aim and intent of the event was to mirror the celebration of International Women's Day, which is celebrated on 8th March every year, internationally. Since the event was announced, we received 250 registrations. The speakers in the event were a range of highly accomplished women from different walks of life. There were 8 women, 8 stories, each one of them a stalwart in their respective fields.



The event had speakers of international repute like Ms. Kelly Dore, the Co- Founder of  the Sierra Cares Foundation which serves women in Sierra Leona and helps to repatriate them home from being held in captive situations in the Middle East. The talks of the other speakers, especially Ms. Bhakti Sharma, a woman sarpanch from Madhya Pradesh was especially very well received and inspired the audiences a great deal. A wave of raw emotions were unleashed with the talks of Ms. Daulat Bi Khan; an acid attack survivor, Ms. Pabiben Rabari; a hari jari embroiderer from Kutch, Gujarat, Ms. Nishtha Dudeja, Indian model and winner of Ms. Deaf Asia, 2018. Their stories of winning over all odds to make a place for themselves in this world was hugely inspiring for everybody and was very well received. Besides that, the event had speakers like Dr. Komal Kamra; a retired professor from University of Delhi and Dr. Akkai Padmashali, a transgender social activist. Their stories of bravado, one against a debilitating spinal cord injury and one against the biological gender and choosing the gender, gave each one of the participants a new perspective. 
Also it must be mentioned that the program also had Ms. Radhika Marfatia, a ghoomar danseuse, whose beguiling performance enthralled the audiences. 
However, the cherry on the cake was Ms. Shruti, a 18 year old girl senior school girl, shares her own story of her struggle with mental health and winning life everyday with it.
All in all, the program was a call to action for everyone to stand up for women's rights and gender equality. This program resounded with the virtues of Gargi College, where we aim to be just and take decisions for the benefits and equality of all.
---
International Symposium 'WISE' (Women in Science Event) on International Day for Women and Girls in Science (11th February, 2021)
Convener: Dr. Jasvinder Kaur
Co-conveners: Dr. Supreeti Das, Dr. Udita Mukherjee, Ms. Sailaja Modem
 An International Symposium on International Day for Women and Girls in Science was organized on 11th February, 2021 by Gargi College, University of Delhi, in association with IQAC. This day is of great significance as the United Nations marked this day as the International Day for Women and Girls in Science, in order to promote more inclusion and participation of women and girls in science. This symposium was an attempt to mirror the same as it is our firm belief that educating women and girls and engaging them more actively in scientific pursuits would lead us to our much-coveted sustainable development goals.  The world's ground-breaking research is led by women scientists. Yet, despite their impressive findings, women still do not represent a good percentage of researchers worldwide, and their work seldom receives the recognition it deserves. However, we strive to see a world where girls are inspired to study science, and where women have sufficient resources to balance research and parental responsibilities, and where scientists are judged purely on the merit of their findings and not their gender.
This event heralded the long-awaited celebration of women in science from India and abroad. We had Dr. Tessy Thomas, Former Project Director, Agni- IV missile, DRDO as our chief guest, whose talk garnered huge popularity and her simplicity, patience and virtues were very well received by the participants in this symposium. This being said, it is imperative to mention that we had over 130 participants from across the country, including various faculty members from the host college and other elite educational institutes of the Indian subcontinent. This event was very well received also due to the reason that we had speakers from various fields and levels of science and academics who explained their work very well to the participants and answered all questions from the participants to the best of their abilities and more.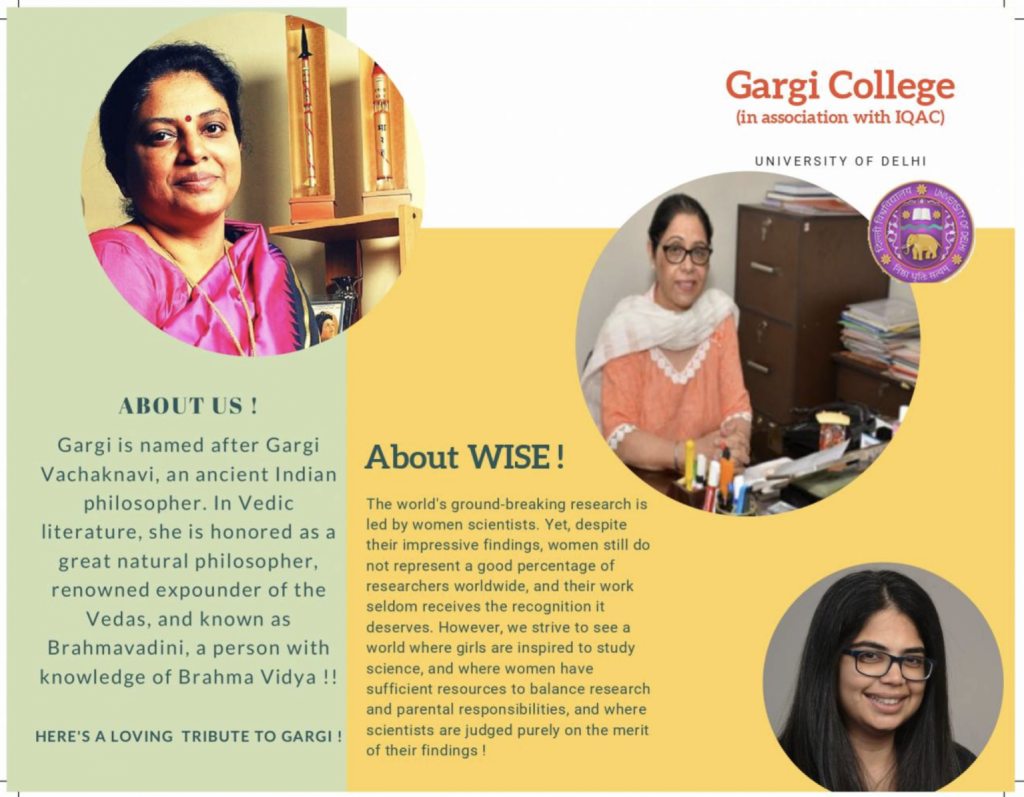 The symposium hosted speakers like Prof. Gurcharan Kaur, Guru Nanank Dev University, Punjab, to speakers of international repute like Dr. Smita Gopinath, from Harvard T.H. Chan School of Medicine. The event saw dynamic discussions on how to manage manpower to how a person's lifestyle can affect his/her mental health. Also, the achievements and accolades of all the speakers of the event did go a long way in inspiring young students in science and will sure upholster their dreams of pursuing science as a career and enable them in balancing other responsibilities with their scientific pursuits. 
This symposium was thus a stepping stone in realizing the true meaning of the well-known African proverb, "If you educate a man, you educate an individual. But if you educate a woman, you educate a nation".
---
International E-conference 'NeuroEunoia 2020: A Neuroscience Affair' (16-17th October 2020)
Convener: Dr. Jasvinder Kaur
Co-conveners: Dr. Poonam Sharma, Dr. Supriya Singh, Dr. Udita Mukherjee

On 16-17 October 2020, Gargi College organized "NeuroEunoia 2020: A Neuroscience Affair", an International E-conference on understanding brain and mental health consciousness and saw massive participation from across disciplines. 
This conference was graced by several speakers of international repute and their experience in their respective sub fields of neuroscience made every session par excellence. This conference saw more than 700 participants from different countries registering to attend. Needless to say, this virtual conference was very well received, starting from the Pre- Conference Super Preview by Dr. Sanjay Pratap Singh, from Creighton University, United States.
Value of sleep, its relation to mental disorders along with neurodegenerative diseases and the adjunct problems were extensively discussed at NeuroEunoia 2020 by expert speakers. Starting right from the notion of being a super ager, accompanied by the trends of dyslexia inheritance, to the wonders that the brain can perform, brought this journey from memory formation to artificial intelligence through these talks. An unforeseen participation from across various disciplines, Indian states and even nations was seen. The subsequent talks raised consciousness among the participants about the neurophysiological aspects of children with ADHD.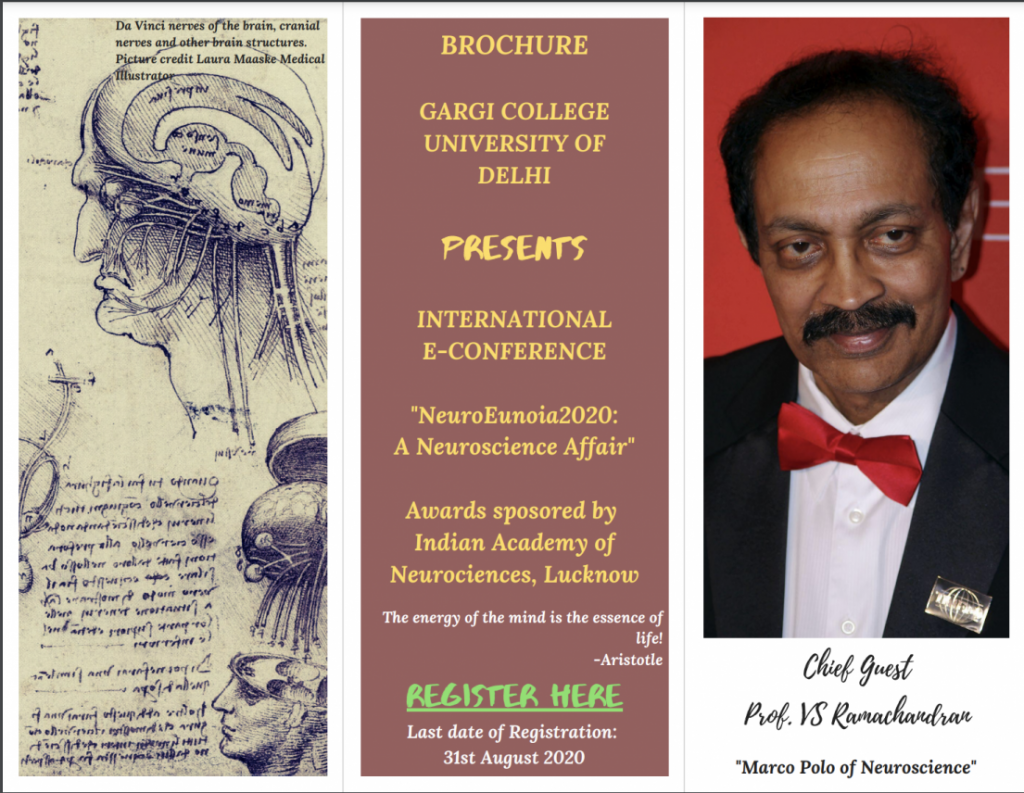 As diversely uniting were the talks, the participants were encouraged to present their research and findings through poster presentations under various sub topics such as Neurobiology, Neural Disorders, Treatment of Neural disorders, Neuropsychology etc. The best posters were rewarded with the best poster award and during the conference and a couple of brain teasers were kept for the audience to participate on the spot. 
Both of these were sponsored by the Indian Academy of Neurosciences, Lucknow. The conference also got covered in electronic media by India Education Diary.
As a miniscule attempt to understand the broad field of neuroscience, the conference began and the talks infused everyone with greater curiosity in the subject and mental well-being. It was indeed a stepping stone towards a more inclusive society.
---
National Webinar Series on Covid-19
Convener: Dr. Jasvinder Kaur
Co-conveners: Dr. Poonam Sharma and Dr. Supriya Singh
The Department of Zoology hosted a National Webinar series on the current global pandemic of COVID-19. 
The series begin with the first talk on care of the elderly population during the pandemic and was titled 'Hi Seniors! Be Happy and Healthy at Home during this Lockdown and beyond' and was delivered by Dr. Prasun Chatterjee, Associate Professor, Department of Geriatric Medicine, All India Institute of Medical Sciences (AIIMS), New Delhi (Founder President Healthy Ageing India & IGLC) on 01 May 2020. 
The second talk of the series focussed on immunology behind the disease, titled 'Immunotherapy in COVID-19' and was delivered by  Dr. Anup Agarwal, Consultant, ICMR, New Delhi on 02 May 2020. 
The last talk of the series culminated with the important subject of the various tests available for Covid-19 testing titled 'These are "TESTING" times!' and was delivered by Dr. Tarun Bhatnagar, Scientist E, ICMR from National Institute of Epidemiology, Chennai, on 05 May 2020.
---
राष्ट्रीय संगोष्ठी - सतत पर्यावरण विकास: इसकी चुनौतियों, अभिकलनी विश्लेषण और अवसरों में वैज्ञानिक और तकनीकी शब्दावली का उपयोग (14-16 मार्च, 2019)
प्राणि विज्ञान विभाग, गार्गी महाविद्यालय द्वारा वैज्ञानिक और तकनीकी शब्दावली आयोग, उच्च शिक्षा विभाग, मानव संसाधन विकास मंत्रालय, भारत सरकार के समर्थन से आयोजित
संरक्षक: डॉ प्रोमिला कुमार (प्राचार्या, गार्गी महाविद्यालय)
संयोजक: डॉ.ममतेश सिंह
सह-संयोजक: डॉ शिवानी त्यागी

"Use of Scientific & Technical Terminologies in Sustainable Environment Development, its Challenges, Computational Analysis and Opportunities" organized by Department of Zoology, Gargi College with support from Commission for Scientific and Technical Terminology, Department of Higher Education, Ministry of Human Resource Development, Govt. of India
Patron: Dr. Promila Kumar (Principal, Gargi College)
Convener: Dr. Mamtesh Singh
Co-convener: Dr. Shivani Tyagi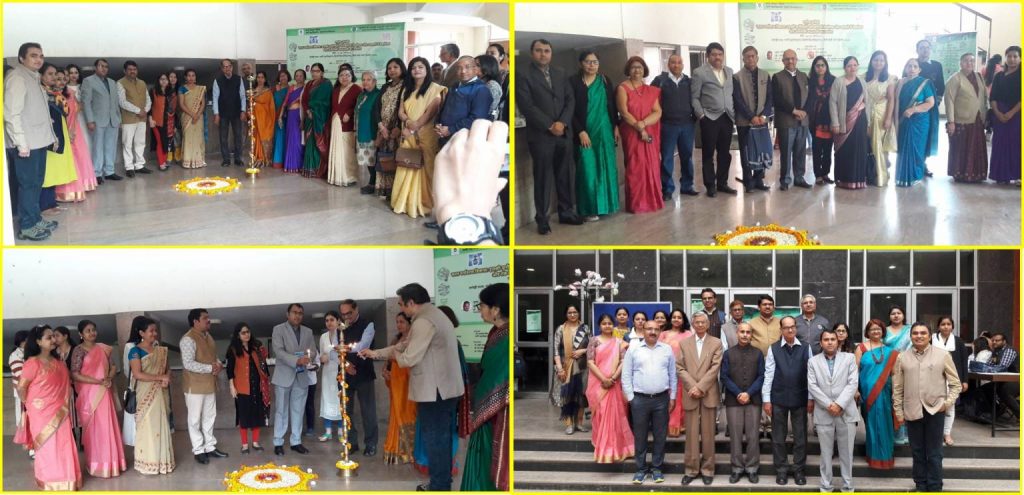 Our chief guest Prof. Ravi Chaturvedi, 'retired Zoology teacher from Zakir Husain College, hindi cricket commentator and a Padma Shri. Award recipient', Dr. Promila Kumar, (Principal, Gargi College), CSTT personnel, and Dr. Shasi Tyagi (Former Principal, Gargi College) graced the occasion. Prof. Ravi Chaturvedi in his talk emphasized on how developing hindi & regional terminology in science and sports helped and may help many rural people to understand the subject matter/game and to develop interest on the same. The seminar was attended by around 200 participants out of which 130 were faculty of different institution from different states in India. There were total 7 invited talk sessions and 4 oral presentation sessions. In these sessions 20 invited talks given by experts from reputed institutions like JNU, AIIMS, Gargi College, CPCB, Zoological Survey of India, Jodhpur and Govt. P.G. College, Indore and total 22 oral presentations were organized successfully.